Cobra Kai Season 4 - The Loop
Play Sound
This needs a stretch. (Feel free to remove when satisfied of completion.)
Needed:
* Dynamic.
* History is incomplete.
This article is about Daphne & Velma in standard continuity. For their relationship in other continuities, see Daphne Blake and Velma Dinkley (disambiguation).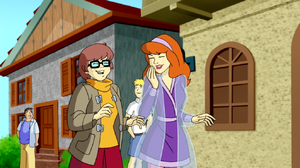 Daphne Blake and Velma Dinkley are the two girls of Mystery Inc.
Dynamic
Daphne and Velma get along and work together very well. Daphne is often the first to understand Velma's blunt way of speaking and can usually calm her down when Velma is overwhelmed. They are also well matched intellectually. Velma being booksmart and Daphne being more creative makes them a well balanced problem solving team on their own.
History
A Pup Named Scooby-Doo
When Velma was accused of being a thief at Coolsville Junior High School, Daphne gave her a makeover, pretending they were cousins, so the Scooby-Doo Detective Agency could search for clues there together.[1]
Insert details here. (Horror of the Haunted Hairpiece)
What's New, Scooby-Doo?
Daphne told Fred she was splitting off alone with Velma, which momentarily phased him, but quickly brushed it off. They then went into an espionage-like search of the Scooby Snax Factory.[2]
After Verona Dempsey had been caught, Fred Jones still couldn't figure out that she was an analogue to Velma, enticing a quiet laugh from Velma and Daphne.[3]
They shared a house together in Coolsville, when not on the road. (A Scooby-Doo Valentine.)
Scooby-Doo! in Where's My Mummy?
After the gang went to Egypt to visit Velma, Daphne hugged her.[4]
Scooby-Doo! Spooky Games
They solved the mystery of the Fortius Statue (who was revealed to be Jack Riggins) while the guys were busy with the World Invitational Games.
Scooby-Doo! Moon Monster Madness
Velma got jealous of Daphne and Shannon Lucas' budding friendship, and when it was assumed that Daphne scored higher on the astronaut training test. But, when Shannon was exposed as the culprit and arrested, they made up afterwards, as Daphne acknowledged that Velma is her real best friend.[5]
Scooby-Doo! and WWE: Curse of the Speed Demon
Velma got jealous of the budding friendship between Daphne and Stephanie McMahon.[6]
Scooby-Doo! Shaggy's Showdown
Insert details here.
Scooby-Doo! and the Curse of the 13th Ghost
Insert details here.
References