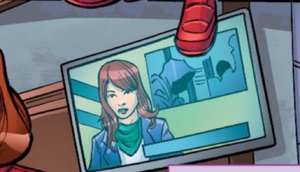 Daphne Blake's Mysterious Mysteries is, or was, a low-rated basic cable show on the Knitting Channel, hosted by Daphne Blake, and filmed by Fred Jones.[1] There's been at least ninety-two episodes.[2]
History
Early history
In Upstate New York they once faced a headless ghost with an axe who turned out to be a crazy neighbour trying to get some money in an attic.[2]
Shaggy Rogers watched it when he visited his grandmother.[1]
When Dr. Velma Dinkley discovered what Project Elysium was really for, she wanted to reveal the truth, but couldn't go to the major news outlets, because they were being controlled, so she desperately decided on Daphne, who wouldn't be considered a threat, as she hurt her reputation and was on the embarrassing Knitting Channel.[3]
Appearances
References
Community content is available under
CC-BY-SA
unless otherwise noted.