This needs a stretch. (Feel free to remove when satisfied of completion.)
Needed:
* History is incomplete.
Dan Fluunk was the caretaker at Burlington Library.
Physical appearance
He is a thin, bald, middle-aged African American male. He wore a navy blue two button suit and a white open-collar dress shirt. In prison, he wore an orange jumpsuit.
Personality
His nice, cheerful, and inviting personality conceals his insanity he has grown from being in the library ever since he was born. He was disappointed in being caught, but he also looked forward to the warm prison he would be taken to.[1]
History
Early life
His family had been caretakers of the library for generations.
Scooby-Doo! Mystery Incorporated
Season two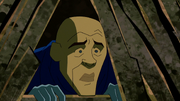 He dressed as an Anubis masked creature and used terror wood to scare everyone away from the library so it could finally close, and he could move someplace warm. However, once he was caught he appeared to be insanely happy about going to prison because he would finally be someplace warm.[1]
He was in the prison cafeteria, when Scooby-Doo and Shaggy Rogers went there, while the others in their gang went to look for Mary Anne Gleardan.[2]
He was abducted by the Kriegstaffebots and was made to dig in the Crystal Cove caves to find the doorway to the Evil Entity.[3]
Post-Nibiru
When the Evil Entity was destroyed, it altered all of reality for Crystal Cove; thus the Fiend wasn't a disguise in the past.[4]
Appearances
Notes/trivia
While the new timeline would've erased the bad Dan had done, it's unknown what he would be doing, as the Burlington Library may not exist in the new timeline.
References
Community content is available under
CC-BY-SA
unless otherwise noted.