This needs a stretch. (Feel free to remove when satisfied of completion.)
Needed: History is incomplete.
Crystal Cove Spook Museum was a tourist attraction in Crystal Cove, owned by Velma Dinkley's parents, Dale and Angie.
Velma sometimes helps give tours.[1] She has no enthusiasm about it because she knows all the ghosts are fake.
One of the activities is a "Mystery Tour" run by Angie.[2]
When Mystery Inc. destroyed the Evil Entity, the universe was altered, creating a town that was unaffected by its influence and thus having no need to make a museum for all the strange phenomena and fake monsters terrorizing Crystal Cove.[3]
Employees
List of museum exhibits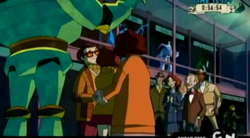 Areas
Monster exhibit: Once the costumes have been removed from the bad guys, they are placed here.
The Broken Spine: A gift shop, bookstore, and coffee bar.
History
Scooby-Doo! Mystery Incorporated
Season one
Velma led a tour group there, and ended getting shushed by her parents for being too honest about the fake ghosts.[1]
The gang looked through an extensive collection of vampire books in the museum's gift shop.[5]
Professor Pericles was getting ectoplasm from the museum to mix an antidote for Aphrodite's hypnotic mind powers (but what he really wanted and obtained there was an industrial-grade drill-bit).[6]
Fred Jones and Daphne Blake visited the museum after-hours as a date. They mentioned that Flim-Flam was in jail for con artistry, and that in regards to Scrappy-Doo, Fred swore that they would never to speak of him again.[7]
Velma and Shaggy Rogers went there to look for an incantation to break a curse of the Headless Horror. While there, they attempted to rekindle their relationship.[8]
The gang went there and met Lady Marmalade, barista and exorcist.[4]
Season two
A man was in the Spook Museum when Crybaby Clown scared him off.[9]
The gang went there to pretend to look up information about the Krampus. They also pretended to be surprised to find the Charlie the Haunted Robot exhibit missing.[10]
The gang went there to get information about aliens.[11]
In response to a distress call the gang went there and found the place had been raided by the Gluten Demon.[12]
Insert details here. (Gates of Gloom)
Post-Nibiru
When the Evil Entity was destroyed, it altered reality for all of Crystal Cove; meaning there was nothing to make profit from. There was no sign above the front door, implying it was just a regular shop.[3]
Appearances
Notes/trivia
References
Community content is available under
CC-BY-SA
unless otherwise noted.