This article is about the food. For other uses, see Cookie (disambiguation).
This needs a stretch. (Feel free to remove when satisfied of completion.)
Needed: History is incomplete.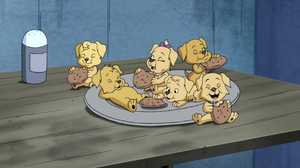 A cookie is a small, flat, sweet, baked good, usually containing flour, eggs, sugar, and either butter, cooking oil or another oil or fat. It may include other ingredients such as raisins, oats, chocolate chips or nuts.
History
What's New, Scooby-Doo?
Season one
Shaggy Rogers revealed a hidden stash of snack food, including cookies, in the floor of the Mystery Machine.[1]
Season two
Velma Dinkley's Uncle Evan and Aunt Meg had Halloween-themed cookies out at the beginning of Mystery Inc.'s visit.[2]
As Scooby-Doo was attempting to (secretly) break himself and the Secret Six puppies out of Scar and Skull's hideout, the puppies wandered off and found their way onto a table full of cookies, enjoying them greatly.[3]
Scooby-Doo! Team-Up
When Robin welcomed Myron to Earth (and more specifically Titans Tower), Cyborg offered him a cookie.[4]
Edna Danvers served cookies when Mystery Inc. arrived at her home.[5]
Scooby-Doo! & Batman: The Brave and the Bold
Insert details here. (Scooby-Doo! & Batman: The Brave and the Bold)
Appearances
Be Cool, Scooby-Doo! continuity
Braiden and Aiden put out milk and cookies for Santa Claus.[6]
LEGO Scooby-Doo! Blowout Beach Bash continuity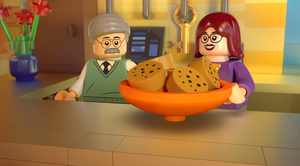 Laura Holdout offered a bowl of cookies at the front desk of the Holdout Inn, which Scooby-Doo and Shaggy Rogers scarfed down.[7]
See also
References
External links
Community content is available under
CC-BY-SA
unless otherwise noted.