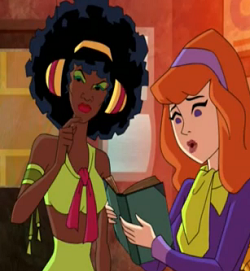 The diary belonged to Cassidy Williams, a former member of the original Mystery Incorporated.
History
Early history
She revealed her love for co-member, Ricky Owens, and her romantic fantasizes about him. She also logged about what her gang was up to. One entry mentioned about searching for the cursed treasure in Darrow Mansion.
Scooby-Doo! Mystery Incorporated
Season one
When the next Mystery Incorporated planned on going to the mansion, Angel Dynamite showed them Cassidy's diary. She told them Mr. E put it on her doorstep (although it didn't have his trademark seal), but in reality Angel was the secret identity of Cassidy. This discrepancy tipped Velma Dinkley to finding out the truth about her.
Appearances
Quotes
Dear Diary,
Man, I dig Ricky. Last night I fantasized that he took me in his big strong arms on a magic carpet ride, all the way to the mysterious perfumed gullies of Romance-sylvania.
Community content is available under
CC-BY-SA
unless otherwise noted.