This article is about the character from the Scooby-Doo, Where Are You! episode Never Ape an Ape Man​. For other uses, see Carl (disambiguation).
This needs a stretch. (Feel free to remove when satisfied of completion.)
Needed: Gold Key adaptation is incomplete.
Carl was a stuntman who dressed up as the Ape Man in revenge against John Maxwell for not seeing his talents as a leading actor.
Physical appearance
Carl is a Caucasian male, with a bald head. He wore a black-furred ape costume on the The Ape Man of Forbidden Mountain set, hiding the rest of his true body.
Personality
He was so resentful for not being cast as the lead of John Maxwell's film and as a result, he tried to bring harm to the other people on set.
History
Early life
He had been hired to be the stuntman for the Ape Man in Mr. Maxwell's The Ape Man of Forbidden Mountain; having already been denied the lead.
Scooby-Doo, Where Are You!
Season one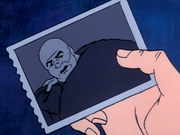 Carl was furious about this, and pretended to be the real Ape Man from legend, endangering Candy Mint and trying to sabotage the set. He then hid inside his trunk claiming that the real Ape Man put him there while he was getting ready (which the gang found suspicious that the supposedly real Ape Man would be smart enough to do that). He then tells Maxwell that he'll be quitting along with Candy until the Ape Man is dealt with. He was undone by Shaggy Rogers, who with a Polaroid camera, accidentally managed to take a picture showing Carl in a mirror without his mask.
Gold Key Comics adaptation
The gang managed to catch the Ape Man, his mask falling off in the process and revealing Carl underneath.[1]
Appearances
In other languages
References
Community content is available under
CC-BY-SA
unless otherwise noted.