This needs a stretch. (Feel free to remove when satisfied of completion.)
Needed: Synopsis.
Car-Tastrophe is a story in Scooby-Doo #153, by DC Comics.
Premise
Fred is a frequent caller on Car Chat, the radio car-advice show. So when they need help, who are they going to call?
Synopsis
The Mystery Machine broke down, and Fred called the Car Chat for help. The Mystery Machine is often braking down, so Fred was calling the Car Chat a few times. But then, a mysterious Phantom papered in the Car Chat studio. Plus, he was giving wrong advice to the drivers, so the Gang was on the case.
The Car Chat brothers saw the Phantom only once. The boys made a trap, and Daphne and Velma solved the mystery. The Phantom appeared and chased the boys. The mystery was solved, the Phantom unmasked.
Characters
Main characters:
Supporting characters:
Villains:
Other characters:
Meter maid (single appearance)(no lines)
Locations
Objects
Vehicles
Suspects
Culprits
Notes/trivia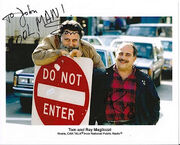 Reprints
Scooby-Doo, Where Are You? (DC Comics) issue 104
Cultural references
The Car Chat show with Cling and Clang, the Thunk-It brothers, parodies the real NPR radio show Car Talk with Click and Clack, the Tappet brothers.
Tom and Ray Magliozzi, the real-life "Tappet brothers" were pleased by their parody appearance in the comic and sent John Rozum an autographed picture.[1]
Terri Grass with her show Fresh Breath parodies Terry Gross with her NPR show Fresh Air.
Karl Castle parodies Carl Kassel, another NPR host.
Coloring mistakes
Inconsistencies/continuity errors and/or goofs/oddities
Quotes
References
Community content is available under
CC-BY-SA
unless otherwise noted.