This needs a stretch. (Feel free to remove when satisfied of completion.)
Needed: Synopsis.
Car-Tastrophe is a story in Scooby-Doo #153, by DC Comics.
Premise
Fred is a frequent caller on Car Chat, the radio car-advice show. So when they need help, who are they going to call?
Synopsis
Insert details here.
Characters
Main characters:
Supporting characters:
Villains:
Other characters:
Police officer (single appearance)(no lines)
Locations
Objects
Vehicles
Suspects
Culprits
Notes/trivia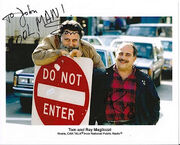 Cultural references
The Car Chat show with Cling and Clang, the Thunk-It brothers, parodies the real NPR radio show Car Talk with Click and Clack, the Tappet brothers.
Tom and Ray Magliozzi, the real-life "Tappet brothers" were pleased by their parody appearance in the comic and sent John Rozum an autographed picture.[1]
Terri Grass with her show Fresh Breath parodies Terry Gross with her NPR show Fresh Air.
Karl Castle parodies Carl Kassel, another NPR host.
Coloring mistakes
Inconsistencies/continuity errors and/or goofs/oddities
Quotes
References
Community content is available under
CC-BY-SA
unless otherwise noted.