This needs a stretch. (Feel free to remove when satisfied of completion.)
Needed: History.
Bluestone the Great was an ex-magician wanted in six states.
Physical appearance
Bluestone is a male, with a lean figure and light complexion. He has short black hair, sideburns, and a moustache.
Personality
Despite his fugitive status for crimes in several states, Bluestone's demeanor was not malicious or cruel. He only wanted to keep away intruders while he searched for pirates' treasure. He possessed a mild degree of hospitality when he used a levitation trick to offer a ham sandwich with mustard to a frightened Shaggy, who desired such a sandwich to calm his nerves.
Once he was captured and unmasked, Bluestone was initially displeased at how his plans were foiled, but smiled when Fred Jones inquired about his ability to walk through walls (which he referred to as "one of my best tricks"). He politely asked to demonstrate how his illusion of intangibility worked, as a final magic performance. Velma Dinkley complimented his skills, "I must admit, Mr. Bluestone, you're a good magician, but a bad Phantom."
Skills and abilities
Being a skilled magician, he possessed several props that served as devices to frighten intruders, including a skull with glowing eyes and spooky voice, a levitating ham sandwich and jar, plus a suit of armor that could swing an axe, a flying carpet, and the "sawing a person in two" trick with a box and saw. His best ability was an illusion of intangibility, consisting of a trick mirror and a special projector, allowing him to cast his image anywhere he wanted, and by stepping away from the mirror, giving the appearance of walking through walls.
History
Scooby-Doo, Where Are You!
Season one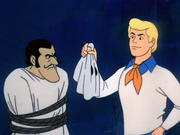 Disguised as the Phantom, he used his magic tricks to scare people away from Vasquez Castle, located on Haunted Isle, while he searched for Vasquez the pirate's treasure.
Appearances
Notes/trivia
Bluestone the Great is simply referred to as "Magician" on his model sheet.[1]
His appearance (and name) are based on stage magician Harry Blackstone, Jr.
He's the first culprit in the series not to appear before his unmasking.
In other languages
References
Community content is available under
CC-BY-SA
unless otherwise noted.