This article is about the animated product. For the product in the Scooby Apocalypse comic, see Blake Bubble Bath (Scooby Apocalypse).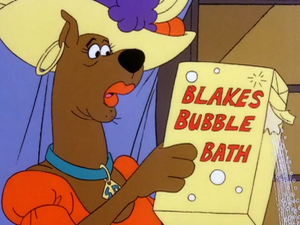 Blake's Bubble Bath is the product Nedley Blake used to make his large fortune. He keeps samples of it around to give to his party guests. Its slogan is "Billowing Bubbles for a Bountiful Bath."
History
The New Scooby and Scrappy Doo Show
Insert details here.
Appearances