Argus Fentonpoof was a screenwriter turned production assistant.
Physical appearance
He is a Caucasian male with brown hair.
Personality
Bitter and resentful, but happy and hopeful in the end because of the potential movie deal for his story.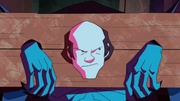 Powers and abilities
He is highly athletic, as demonstrated by his leaping around as Nightfright, though his fighting ability is not as great as he made it appear (he bribed the other actors to take a dive when he hit them).
History
Early life
He went bankrupt after Vincent Van Ghoul pulled out of his movie, Scream! Scream! Time For You To Die!. He became a lowly production assistant, but he had a plan to make a comeback.
Scooby-Doo! Mystery Incorporated
Season one
By wearing the costume of Nightfright and getting filmed terrorizing Van Ghoul and his guests, Fentonpoof hoped to start his own movie career. He was pleased when he was caught by the gang because he would get to make a movie about the case after he got out of jail.
Appearances
Community content is available under
CC-BY-SA
unless otherwise noted.