This needs a stretch. (Feel free to remove when satisfied of completion.)
Needed: Synopsis.
Aliens Among Us is the sixteenth episode of the second season of Scooby-Doo! Mystery Incorporated, and the forty-second overall.
Premise
Mystery Inc. investigate Sheriff Stone's alien abduction claims.
Synopsis
Insert details here.
Characters
Main characters:
Supporting characters:
Villains:
Other characters:
Locations
Objects
Vehicles
Suspects
| Suspect | Motive/reason |
| --- | --- |
| O'Flaherty gang | They appeared on a wanted poster. |
Culprits
Cast
Continuity
When the Sheriff was telling about the first time he was abducted, he said he was a child pretending to be Dead Justice, a childhood hero that appeared in Dead Justice.
Notes/trivia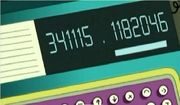 This episode first aired in Italy on March 5, 2013 on Boomerang.
This episode aired in France on April 15, 2013 on Cartoon Network.
Daphne asks "who cuts down corn from the middle out", but as the camera pans out on the crop circle it looks like the corn may not have been cut, but have been bent down like in traditional crop circles.   
Cultural references
The store in the mall called Streamrock is a parody of the real store chain called Brookstone (known for selling expensive gadgets).
Hypotheses on Grey, Nordic, and Reptoid aliens, as well as hollow earth are common in UFOlogist circles as well as other conspiracy theorists since the 1950's or earlier.
Majestic 12 is a rumored American covert organization supposedly set up to study aliens.   
The geographical coordinates of a location in Gatorsburg have been revealed: 34 11 15N, 118 20 46W. This puts Gatorsburg in real-world Burbank, California. (Using Google Earth, one can find the address is 3300 W. Pacific Avenue, a warehouse for set lighting owned by Castle Rock Entertainment, a subsidiary of Warner Bros.).
Animation mistakes and/or technical glitches
Inconsistencies/continuity errors and/or goofs/oddities
In other languages
| Language | Name | Meaning |
| --- | --- | --- |
| French | Les envahisseurs sont parmi nous | The Invaders Are Among Us |
| Greek | Εξωγήινοι Ανάμεσά Μας | Aliens Among Us |
| Hungarian | Az idegenek köztünk járnak | Aliens Among Us |
| Italian | Grigi, Rettiliani E Affini | Greys, Reptoids And Co. |
| Spanish (Latin America) | Alienígenas Entre Nosotros | Aliens Among Us |
Home media
Quotes
Community content is available under
CC-BY-SA
unless otherwise noted.