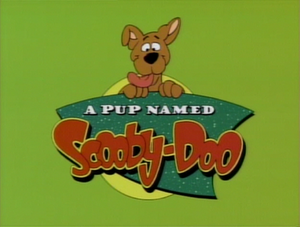 Season 4 of A Pup Named Scooby-Doo debuted on ABC from August 3-17, 1991. It is the final season.
Cast
Recurring characters
Episodes
Image
Title
Number
Airdate
Suspects
Culprits
Monsters
The Were-Doo of Doo Manor
1
August 3, 1991
Horton-Doo, Gilda Squater
Nasty-Doo
Boogey Biker
Shaggy and Scooby sleep over at Doo Manor, where they encounter Nasty-Doo, the ghost of Scooby's cursed relative Nasty Doo, and he is out to turn the curse on Scooby. The only way to stop it, is for them to leave Doo Manor forever!
150px
Catcher on the Sly
2a
August 10, 1991
N/A
N/A
N/A
It's Scooby's bath day, but is he doomed when the dog catcher, Buster McMuttMauler, is after him?
The Ghost of Mrs. Shusham
2b
August 10, 1991
Bernice Binder, Rona Lickton
Bernice Binder
Ghost of Mrs. Shusham
The ghost of the librarian from the old Coolsville library is after Shaggy for a missing book, Pizza Parrot and the Butterbean Bunnies, and wants it in before midnight.
The Wrath of Waitro
2c
August 10, 1991
N/A
N/A
N/A
The guys stop for a "snack", but soon find out that they can't afford to pay for it. What would Commander Cool and Mellow Mutt do to stop the evil waiter Waitro from getting them?

Mayhem of the Moving Mollusk
3
August 17, 1991
Ivan Orton, Englebert Newton, Lester Leonard, Red Herring
Lester Leonard
Moving Mollusk
When the high-tech monster catching group "Critter Getters" breaks up, the remaining member wants the gang to restore their reputation, by helping catch the Moving Mollusk, a snail monster terrorizing New York City.
Notes/trivia
Community content is available under
CC-BY-SA
unless otherwise noted.